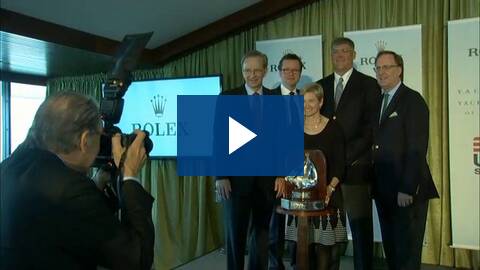 Join emcee Gary Jobson, US Sailing President Tom Hubbell and past Rolex winners in this short celebration of Brian Porter and Jody Starck, the 2013 Rolex Yachtsman & Rolex Yachtswoman of the Year. held at the St. Francis Yacht Club in San Francisco.
This year's winners both say it's all about family. They are both amateur sailors who enjoy sailing and mixing it up with the best.
Starck, age 48, who won the award previously in 1989 and 2004, won the Lightning World Championship crewing for her husband David Starck (who was shortlisted for this year's award), then switched to helming, winning the Lightning Atlantic Coast Championship and finishing third at the Lightning North American Championship. Both of her daughters tell everyone how much fun they have going sailing.
Porter, age 55, won the Sperry Top-Sider Melges 24 Championship and the Melges 24 class at Quantum Key West 2013, and finished third at both the Rolex Big Boat Series and the E Scow National Championships. He thanked previous Rolex Winner, Olympic Medalist and National Sailing Hall of Famer Buddy Melges for showing him how to set up his boat and "present it to Mother Nature." He is thankful for this sport which allows him to continue having fun sailing with his brother for over 50 years, and with all of his children.
Click here for the full press release from US Sailing.
Click here to view the complete list of all past and present winners of the Rolex Yachtsman & Rolex Yachtwoman of the Year Award.